---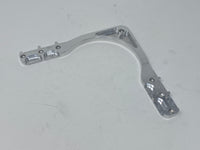 Effective 30-Jun-2023 at 12:01 am PT, the six mounting holes/screws in the MK4i Swerve Module for attaching it to the drivetrain frame will change from using 8-32 screws to 10-32 screws. Details:
The change enables the swerve module to be directly mounted to commonly available 2' x 1" aluminum tubing with pre-drilled 10-32 clearance holes (example:

 

MAXTube).
If ordering a replacement/spare Bottom Plate, be sure to check your existing MK4i Swerve Module for what size frame mounting holes it has to ensure you select the correct plate variant to order. If your swerve module was ordered before the above effectivity date/time, it

 

likely

 

has 8-32 holes. It otherwise

 

likely

 

has 10-32 holes (check to confirm).
Bottom Plate for use on the MK4i swerve module.
Weight: 0.20 Pounds
Material: 7075-T6 Aluminum
Finish: As Machined